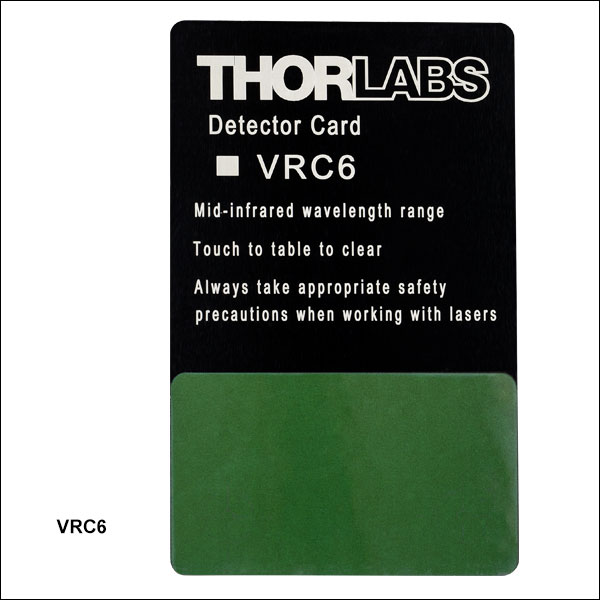 Liquid Crystal Film Changes Color When Exposed to Mid IR (MIR) Light
Active Area: 2.1" x 1.25" (54.0 mm x 31.8 mm)
Minimum DetectablePower Density: 0.3 W/cm2 @ 1550 nm
Recovery Time: <1 Second
The Thorlabs VRC6 MIR laser viewing card is designed for use with wavelengths from 1.5 µm to at least 13.2 µm, as shown by testing results. The detector area on this card is a thin layer of liquid crystal that has been printed onto the black metal card. Thermochromic liquid crystals are temperature-sensitive organic chemicals with twisted helical molecular structures. The MIR light changes the temperature of the detector area, resulting in a color change. The detector area is green between 25 and 30 °C, and it is black or brown otherwise. Simply tap the card on a tabletop to return the color to the resting state.
The detection region extends all the way to the edge of the card in order to facilitate the use of the card during alignment procedures, and each card features two engraved reticles for use in laser beam collimation.