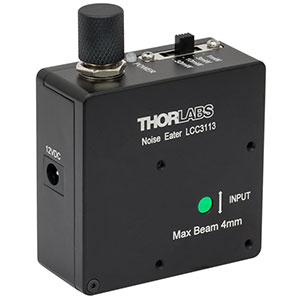 Thorlabs' new Liquid Crystal Noise Eaters / Laser Amplitude Stabilizers are precision instruments for stabilizing, modulating, and attenuating the power of linearly polarized light. These closed-loop systems are designed for use with light in the 425 - 650 nm (LCC3111), 650 - 1100 nm (LCC3112), and now also available for the 1050 - 1620 nm (LCC3113) wavelength range.
Utilizing a liquid crystal amplitude modulator, combined with a photodiode for power measurement and a feedback control circuit, the Noise Eaters can eliminate intensity noise in linearly polarized light, achieving amplitude stabilization of within 0.05% of a selected output power. The input power can be set to one of four ranges using the switch on the top of the unit. The potentiometer is then adjusted to select the output power. Long-term performance and frequency characterization for each noise eater model are shown on the Performance tabs.
These Noise Eaters are also capable of continuously attenuating the laser output using the liquid crystal retarder and integrated polarizer. Unlike most attenuators available, Noise Eaters attenuate the laser power rapidly without the use of any mechanical components. The Noise Eater's attenuation capabilities can be controlled via the onboard potentiometer.