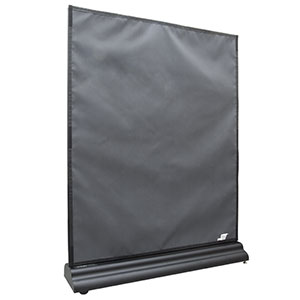 Laser safety barriers are an essential laser safety component for use in many high-power laser labs where scattered light must be blocked to avoid the potential for irreparable eye damage. Thorlab's new SB5X6 Fixed Panel Laser Safety Barrier is a is designed for use in labs with high-power CW or pulsed lasers. To block both CW and pulsed lasers, two materials are used in conjunction. The outside material is certified* for up to 9 J/cm2 average irradiance for pulsed lasers (100 s exposure), while the inside material is certified* for up to 120 W/cm2 CW (100 s exposure).
Please see the DISCLAIMER below for more details. If the barrier material is damaged (i.e., laser burn, physical tear, etc.), the curtain should be replaced immediately; replacements can be ordered by contacting your local Tech Support office.
Compact Design
The 5' x 6' (1.5 m x 1.8 m) barrier is supported by a base with a footprint of only 60.2" x 12.3" (1.5 m x 30.8 cm). By not using cross-feet, the base eliminates the tripping hazard that many other laser barriers create. Mobility is provided via two fixed wheels on one end and two leveling feet on the other end. When one side of the barrier is lifted, it can be easily transported around your lab. When lowered, the leveling feet ensure that the barrier will remain stationary.
All construction components are stored in the base upon shipment. The barrier design is based on our XE25 rail system, which bolts together using locking collars and 1/4"-20 cap screws. The barrier material simply wraps around the construction rods and is secured onto the rods using hook and loop fasteners.
Couple Barriers Together
When a longer barrier is needed, multiple barriers can be connected in series with an included strip of laser barrier material. These strips attach to the barrier using hook and loop fasteners, making large barriers easy to build. If a different laser barrier configuration is needed for your lab, please contact our Tech Support team to discuss our custom capabilities.
*DISCLAIMER
The barrier materials have been tested individually by a 3rd party using ANSI specifications. Due to manufacturing variances, mechanical wear, and laser damage, Thorlabs assumes no responsibility for laser barrier failure. Please consult your laser safety specialist before purchasing to ensure that the barrier is suitable for your application. To minimize risk, inspect the barrier before each use and ensure that it is in excellent condition.