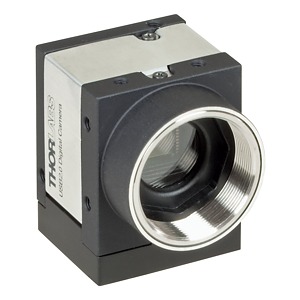 These compact, lightweight CMOS cameras from Thorlabs offer 1280 x 1024 px (SXGA) resolution and are available with either a monochrome (M models) or color (C models) sensor. The DCC1545M and DCC1645C cameras are ideal for situations where a trigger input is not necessary, whereas the DCC1240M and DCC1240C offer an external trigger as well as a global shutter mode for capturing objects in motion. These CMOS cameras are easy to use as a webcam and can be used in a wide range of applications from microscopy to monitoring.
Sensor and Functionality
All of these CMOS cameras offer the same resolution of 1280 x 1024 pixel in full frame mode at a maximum frame rate of 25 fps . However, the sensor incorporated into the various models provides different features. The DCC1545M/DCC1645C cameras operate with a rolling shutter only; frame rates up to 250 fps are possible with reduced Regions of Interest (ROIs) and sufficient light conditions. The DCC1240M/C cameras include a new generation of CMOS sensors that allow for switching between rolling and global shutter mode, offer a considerably higher dynamic range, and include an input for external trigger. The high-quality sensor incorporated into the models with external trigger offers an image quality that comes close to higher-priced CCD cameras such as our DCU series. This camera also allows the user to select multiple regions of interest (ROI) per frame. Both camera series are connected and powered via USB2.0.